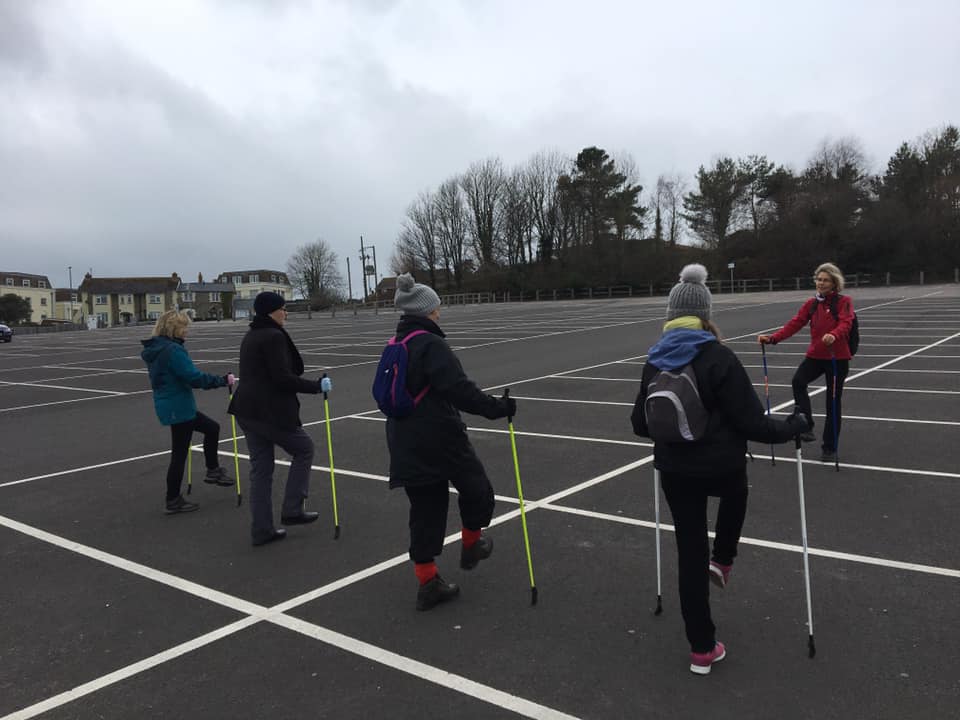 Hi, I'm Gillian Butcher and I run Lyme Bay Nordic Walking. I trained to be an instructor with the British Nordic Walking association in 2016 and it's one of the best decisions I ever made.
I first heard about Nordic Walking from my Pilates instructor. I just couldn't 'get it' and the final straw for me was one hot and sunny August evening in a sweltering village hall. I just didn't want to be there. No disrespect to my Pilates teacher who was excellent but it wasn't for me.
However, I still wanted the benefits of a strong core, improved balance etc so she suggested I try Nordic Walking. I signed up for a free taster session and I was immediately hooked! I 'got it' straight away feeling muscles I didn't usually use being activated and the increase in speed was discernible without feeling too onerous. Another huge bonus for me was being outdoors enjoying the benefits of exercising in the fresh air in the beautiful countryside that we are so lucky to live near.
Fast forward to now and I spend my days in the most fantastic scenery, teaching and leading groups. There is always lots of friendly chat but at the same time we gain the numerous physical benefits of Nordic Walking. It truly is a tonic for the mind, body and soul.
Nordic Walking uses specially designed poles (not trekking poles) to enhance your natural walking experience.  With a technique that is similar to the upper body action of classic cross-country skiing, Nordic Walking becomes a genuinely whole body exercise that can be enjoyed at many levels, from walking for health to athletic Nordic running. More than 10 million people globally enjoy this outdoor activity all year round.
Do I need to be fit?
Nordic Walking is safe for everyone.  The poles mean that effort is shared between the upper and lower body and it actually feels easier than normal walking, particularly uphill.  It's really good exercise for problem areas such as the arms, stomach and bottom. But forget "No pain no gain", this is "No pain all gain"!  Nordic Walking puts less strain on joints than other activities and can be very effective for people recovering from illness or injury.
It can also help with a range of side effects often caused by cancer treatment including balance, peripheral neuropathy, lymphodema, anxiety and depression.
What are the benefits?
Nordic Walking combines the simplicity and accessibility of walking with simultaneous core and upper body conditioning similar to Nordic skiing.  The result is a full body workout, which means that you:
·         burn up to 46% more calories compared to walking without poles
·         exercise 90% of your Muscles
·         release tension in the neck and shoulders
·         improve your posture and gait
·         strengthen your back and abdominal muscles
·         reduce the impact on the joints
·         tone the upper and lower body
Other benefits
·         can be done anywhere
·         social exercise
·         good for your mental health as exercise in nature has been proven to improve your mood.
·         manage your weight with toned muscles and less body fat
Benefits of Exercising in Nature
·         more energy to enjoy life
·         reduce stress
·         enjoy a deeper, more restful sleep
·         reduce the risk of heart disease, diabetes, stroke, high blood pressure, and osteoporosis.
·         boost good cholesterol in the blood
·         alleviate depression and negative thinking
·         relieve arthritis and back pain
·         strengthen muscles, bones, and joints
·         elevate overall mood
·         create a sense of well-being.
·         increase feelings of peace, stability, and sense of connection
·         good for the brain
·         improve cognitive function
Benefits of group exercise
·         Group exercise classes are led by someone you can trust as an expert.
·         Your Instructor/Walk Leader creates an environment with "rules", direction, and a clear plan.
·         Group sessions are typically more entertaining, making time pass quicker than a solo workout.
·         They give you an "appointment", making it harder to bail out.
·         You become part of a close-knit social group that sweats and achieves together.
·         You can "hide" in the beginning, relieving any self-imposed anxiety or pressure.
·         You have an opportunity to bring a workout partner or make new friends.
Because Nordic Walking doesn't feel like hard work you'll be happy to walk further and for longer.
The Way Ahead
To book a place, email  lymebaynordicwalking@gmail.com or call me on 07985 069801.