Laura Culley  BA (Hons), HPD, NLP Pract, MNCH, MCNHC – Hypnotherapy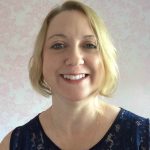 Having retired from primary school teaching due to ill health, Laura discovered hypnotherapy as a way to overcome the chronic pain, anxiety and depression associated with Endometriosis and Fibromyalgia. She was amazed at the difference she could make to her own well-being. This inspired Laura to research into hypnotherapy and she went on to study with Adam Eason at the Anglo European School of Clinical Hypnosis. She graduated with a Hypnotherapy Practitioner's Diploma (HPD) and a diploma in Neuro-Linguistic Programming (NLP) and now specialises in helping with anxiety and pain management. Laura is a member of the National Council for Hypnotherapy (NCH) and the Complementary and Natural Healthcare Council (CNHC).
Laura uses a combination of hypnotherapy, NLP and Cognitive Behavioural Therapy to help her clients. She believes that the relationship between the client and therapist is very important and will do her utmost to ensure that you feel safe, confident and listened to. Every person is unique and will require an individual treatment plan depending on the issues that you identify as important. Contrary to popular belief, hypnosis is not about giving up control to the hypnotist, but actually about gaining control over your thoughts and feelings. It is a very empowering and enjoyable therapy.
Hypnotherapy can help those affected by cancer and their families both during and after treatment. It can help with:
pain management
overcoming anxiety
managing depression
increasing relaxation
reducing nausea
coming to terms with physical and mental changes
overcoming survivor's guilt
overcoming phobias (needles, white coat syndrome etc)
developing a positive mindset
Laura works from a cosy therapy room in Serendipity in Honiton High Street and can also make home visits.  If you would like to know more about hypnotherapy or have a chat with Laura about how she could help you, she would love to hear from you – call her on 07577 485250, visit her website www.lauraculleyhypnotherapy.co.uk, or email info@lauraculleyhypnotherapy.co.uk .