Decisions; decisions.  It is not a case of one suits all.
When I had a mastectomy in September 1990 I was not immediately offered an implant. It was the accepted policy then to let the mastectomy heal first so I had at least 3 months to think about it.
Three things helped me decide. Firstly, I had not anticipated how violated I would feel whenever I saw myself naked in a mirror, or in the bath or shower. It was a daily reminder of my loss of femininity.  Secondly, I went back to my job of teaching in a boys' grammar school, with, at the time, only 3 women on the staff. Back then we used chalk on a blackboard. Every time I raised my arm to write on the board I was aware of becoming lop-sided. My good breast moved. The one with a prosthesis stayed put. 17 year old boys probably notice these things. I was certainly acutely aware of it.
While I was considering the choice a lady who'd just had a similar mastectomy to mine, whom I'd been put in touch with by the breast care nurse specialist who had a hunch it would help us to talk to each other, (she was right), had decided emphatically that she did not want to undergo more surgery. She was less than my 34" and maybe that made it an easier decision for her.  I had the background of a much more major abdominal operation in 1977 and no longer feared that I might not wake up from an anaesthetic. That probably helped me to contemplate facing another one too.
The decisive moment came in the garden. I was bending over, weeding, and my prosthesis fell out. I was mortified but fortunately the only observer was a blackbird.  I actually laughed and said to myself, "That's it! I'm having an implant."  I told my husband and asked the hospital for a date in the school holidays. They kindly obliged with 31st December.
Before then, but not long before, my husband went to a medical ethics lecture as part of a training course he was on.  The lecturer was recently back from New York where the newspapers were full of the dangers of some silicone implants leaking and so becoming toxic. He happened to mention it in his lecture. On hearing this I phoned the nurse specialist and she didn't believe me. If it were true, she said, she would have known. I explained it was a new piece of research so maybe she could ask the consultant. She did and he hadn't heard about it either.
Around Christmas the research made it into the British newspapers as well so the type of implant I received on 31st December was a safe one.  It was quite a party atmosphere in the operating theatre as it was the consultant's last op. before he retired from the NHS. The nurses had decorated the room with balloons. I felt like partying too. It was great to have a body that looked normal again.
cancer locally.
Breast Cancer can happen at a younger age
I was diagnosed with Inflammatory Breast Cancer at 31  in 2016 and underwent 9 months of intensive treatment. I am now on medication for another 5 years. I was lucky that I was able to see a councillor locally after my radiotherapy which helped me with what I had been through and my fear of death.
Then Axminster and Lyme cancer support was set up in 2018 which was much needed in the local area and I could not wait to volunteer, give back and support people like myself, who understood what its like. I have been able to see another councillor to deal with grief and also recently receive Bowen and Scar tissue therapy to help with my lymphoedema and pain from the tightness from my scar and lymph node remove. All this really has made a difference to my life.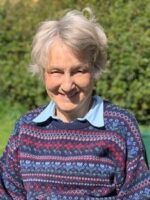 Perseverance
It came as a complete shock to me when I was diagnosed with incurable metastatic cancer and low grade blood cancer. I thought surgery had cured the former 31 years ago.  My only obvious symptom had been a frustrating lack of stamina, though looking back I realise I had significantly lost my appetite as well.  A few false diagnoses were trialled before blood tests and scans proved the cause.
Then I was hospitalised with flu and grew very weak: it was as much as I could do to swallow soups and yoghurts.  When I began attending monthly Outpatient Cancer Clinics I was using a wheelchair for long hospital corridors.  I agreed to start on a medication, Ibrance, classified as chemo, that had  been recently licenced and is prescribed only by hospitals, not GPs.
A couple of months later word had got round in our suburban Close of 9 houses. A neighbour at the far end (not very far at all) invited me round for coffee. I realised with some horror that I couldn't walk that far.  I felt nauseous, was losing weight from an even worsened lack of appetite, and was spending almost all day in bed.  I had a reputation for being stoic to a fault and it had come to this.
And not only was I ill but my husband was looking worn out. He was doing all my domestic chores, the cooking, ironing, his own gardening tasks and admin chores and trudging up and down stairs several times a day looking after me.  I imagined the situation getting even worse and resolved to stop chemo. Mine and his interests, I thought, would be better served if I went downhill quickly. There was not much quality of life to look forward to. And that was without knowing Covid 19 was on the near horizon!
Of course, writing this is a bit of a spoiler! I attended my next hospital clinic and told the consultant oncologist that I wanted to stop the chemo treatment. I was given a long hard look. She explained that there would be no going back from that decision. Treatment had to be continuous. She would not be allowed to start it again if I changed my mind. She very strongly recommended me to continue with chemo as my body might adjust well to it.  I totally understand why doctors are reluctant to make predictions but nevertheless I asked her how long I'd got.  She, of course, said she didn't know. I said I realised that, but she had a better idea than I had.  That evinced that It depended how well my body adjusted to the chemo. It might turn toxic in 5 months.  Maybe a year or even more.
I was persuaded. That was 3 years ago and I am on my 41st record-breaking cycle now. I am so grateful the doctor encouraged me to persevere.  Even with months of Lockdown life is good.