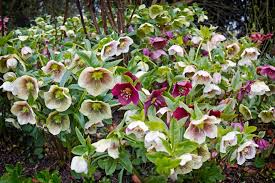 Newsletter No.17 – January 2020
Well January has been a busy month and has flown by. For many it is a time to set resolutions, good intentions or promises to themselves. There seems to be a lot in the news about people trying a vegan diet, so for all of you out there who have tried something new in January I hope it has been positive! Nature is beginning to wake up and it is a delight to see our hellebores in full bloom.
We are still working on the beach hut and will be looking for some exciting ideas regarding decorating the interior, any thoughts? please let us know!
Ammonite the film is due to be released shortly and no doubt will be enjoyed by many local people, spotting their favourite landmarks.
Thank you Pebblemoon –  Do check out the monthly discussions in Seaton
Pebblemoon hosted a Wellbeing Discussion and Talk with Lisa Galvani of In Harmony, Lyme Regis. This was a free admission event with all donations going to Axminster and Lyme Cancer Support – we managed to raise £60.00
There are free monthly discussions and talks held at Pebblemoon, Seaton, with all donations going to ALCS.
Co-op Local Community Fund
Axminster and Lyme Cancer Support has been chosen to benefit from the next round of the Co-op Local Community Fund.
The funding has started so please do register your loyalty card so 1p of each £1 is given to ALCS.
Not a member?  Join here.  No matter which Co-op you use, the funds will come to the charity.
Nordic Walking!
We continue to Nordic walk fortnightly, and despite the wet weather have had some amazing views across the Jurassic coast. If you are interested please do join us for our taster session on 3rd February in Lyme Regis …more details below. 
Do you have an interest in Knitting or Crochet?
Have you seen or heard of knitted or aqua knockers? They are knitted or crochet prosthetic that can be made to any shape or size.
If we have enough interest we may have a go during a drop in session. The link below provides more information about how they are made.
https://www.knittedknockers.org/make-a-knocker/
Healthwatch Dorset – Survey
Healthwatch Dorset is the independent champion for people who use health and social care services. We find out what matters to people and make sure their views shape local services.
We are working with Macmillan Cancer Support and the Wessex Cancer Alliance to find out more about people's experience of cancer support care in West Dorset. During January/February 2020 we will be meeting local support groups to interview people living with cancer and their families and friends. We've also created a short online survey https://www.smartsurvey.co.uk/s/cancersupport/  to make sure as many people as possible have their say (closing date 23rd February).
Fermented Food Workshops
We are delighted to be able to announce our fermented food workshops for 2020. Over the year we will be taught by Tiffany from Culture Love all about kefir (water and dairy), kombucha, sauerkraut, kimchi and there will be an opportunity to have take home ideas.
Dates for 2020 are as follows:
2nd March – Kombucha fermented food –
1st June – Kimchi
7th September – Kefir
November – Date and Workshop to be confirmed.
The benefits are well reported across the medical press now although this style of food has been used in many of cultures for 1000's of years. More information can be seen on Tiffany's website https://culturelove.co.uk/
Numbers are limited so please do let me know if you would like to attend mary@axminsterandlymecancersupport.co.uk
There is no cost to this event, as it is funded by the charity but donations are always appreciated.
They will be held at the Lyme Regis Football Club.
Recommended Reading/Listening
This month we would like to suggest using our audio skills! Podcasts are a great way to learn new things, do research and relax. Whether in a car or just taking a moment with a cup of tea. This month after some great feedback from people who have listened to Liz Earle we would like to recommend Dr Ranjan Chatterjee. He has written many books, some of which are available in our library and has a host of top tips on many health issues. https://drchatterjee.com/
W

ould you like to volunteer with us?

If you would like to join us, or know anyone who could help us with administration, hosting our drop-in sessions, fundraising etc, please get in touch. We are holding our next volunteer training session on 11th February.
Dates for your diary
Guided meditation
With Wendy Lowis Bates. Thursdays 11 – 12.30 in Charmouth.
£5.00 per session with fresh mint tea.
Contact wendylowisbates@gmail.com
Weekly drop-in sessions
Our weekly drop-in sessions will continue – do please pop along for a cuppa and a chat. Sessions are held at the Scott Rowe room, Axminster Hospital and the Football Club, Lyme Regis. The next few sessions are:
Monday 3rd February – Lyme Regis, 2-4pm
Monday 10th February – Axminster, 2-4pm
Monday 17th February – Lyme Regis, 2-4pm
Monday 24th February – Axminster, 2-4pm
Monday 2nd March – Lyme Regis, 2-4pm
Monday 9th March – Axminster, 2-4pm
Mini Workshops
We are delighted to be able to welcome Ellie Sturrock back to do some mini workshops:
Sleep Workshop
Monday 3rd February & Monday 18th May
3-4pm Lyme Regis Football Club
Mindfulness
Monday 2nd March & Monday 22nd June
3-4pm Lyme Regis Football Club
Nordic Walking
We are delighted to have arranged with Gillian Butcher from Lyme Bay Nordic Walking to provide fortnightly Nordic Walks in the area. 
FREE TASTER SESSION TO TRY NORDIC WALKING …also can be used as a refresher. Monday 3rd February 12-1pm at Lyme Regis Football Club. Soup and bread lunch afterwards.
Nordic Walking dates for 2020:
5th February
19th February
4th March
18th March
1st April
More dates for your diaries:
Blokes Brunch 8 February 2020 at the River Cottage Kitchen and Deli 9.30am-11am.
More details to come.
This event will be open to all men and will include a free brunch.
The Pilot Boat Quiz Night, Lyme Regis.  6 February, 8pm-10pm
We are delighted to share that the Pilot Boat is hosting a quiz night to raise money for Axminster and Lyme Cancer Support
All welcome, £2 per head.
More details
If you know anyone who would like to receive this newsletter, please ask them to sign up via here or email admin@axminsterandlymecancersupport.co.uk and we will add them to our mailing list. We are happy to send newsletters by post, if needed.  Past editions can be found on our website
Copyright © *|CURRENT_YEAR|* *|LIST:COMPANY|*, All rights reserved.
*|IFNOT:ARCHIVE_PAGE|*
*|LIST:DESCRIPTION|*
Our mailing address is:
*|HTML:LIST_ADDRESS_HTML|* *|END:IF|*
Want to change how you receive these emails?
You can update your preferences or unsubscribe from this list.
*|IF:REWARDS|* *|HTML:REWARDS|*
*|END:IF|*