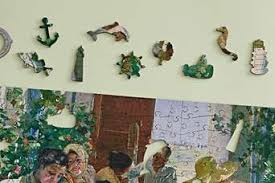 Newsletter No.20 – April 2020
Writing another newsletter during lockdown has made me think about time. In some respect the days and weeks are all blurring together but looking back so many things cancelled and missed. We should have had a nieces wedding but are now looking forward to a new date in the autumn. So many other weddings postponed. Friends and families birthdays being celebrated remotely and so many zoom meetings! We have been having some good drop in using zoom and I hope those of you who would like to join us do, if it is a bit daunting to download and do please  contact us and we can talk you through the process.  There are now regular deliveries of jigsaws, magazines, craft and art kits ,all free….if you would like something please do ask .
A big thank-you to Wentworth jigsaws https://www.wentworthpuzzles.com/ who donated 10 puzzles to us these were of a variety of images and one (the hardest ever) was of just penguins! This was completed in record time by the Ball family….anyone else fancy the challenge?  We have started a buddying 1-2-1 telephone support and again please do ask if you would like a weekly chat with myself or one of our volunteers.

Online counselling, coaching and Tripudio is going well and the feedback that although not the same as face to face this is a very valuable support at these times. Thank-you to our therapists who are providing this. Wishing you well for the coming month.
Beach Hut – Update
We are still busy with our Beach Hut plans behind the scenes. The website is now sporting a very nice Beach Hut tab with a picture and information. Do check it out! The leather key-ring pictured has been created and designed by a local artist and we cannot wait to have them available on our new shop also coming soon….
Tripudio Movement Systems – with Karen Forrester-Jones
Please do contact us if you wish to have a 1-1 private initial session we have secured funding from local grants during Covid19.
"While the lockdown continues there are free online Tripudio Movement Flow sessions every Monday, Wednesday & Friday at 2pm for 15 mins on Zoom available to all members and volunteers, where you can learn the seated Flow that benefits the lymph and fascial systems. If you are interested in taking part with Karen Forrester-Jones then please email her on forresterjones.k@gmail.com and she will send out the links for that week to you or you can message her through her Facebook page called Tripudio Class with Karen."
Life Coaching –welcome to our newest therapists.
Dr Dianne Dowling is a professional Coaching Therapist who provides a safe space for clients to explore their own pathway back to wellness after cancer treatment. Dianne was a teacher and mentor for many years and after completed a Professional Doctorate alongside other degrees, she now practices as a Coaching Therapist specialising in working with cancer. Her Doctoral research was a unique South West based study which focused on women living and working with breast cancer. Dianne was diagnosed with breast cancer over 20 years ago. Having both a personal and professional knowledge and experience, she is uniquely qualified to coach clients through a health crisis like cancer and help them through this most difficult time in their lives. She is passionate about living well with cancer and says:
"Working with cancer is not just about surviving, it is also about thriving. I enable clients to explore their personal issues of embodiment, helping them work through issues of confidence to bring their whole bodies back to work or choose another career path."
What is coaching?
Purpose driven coaching enables a client to explore their 'legacy of now' – what is important to them post cancer experience, and what they can they achieve and contribute to the well being of themselves and others. Coaching is an equal partnership where the client chose the direction their journey will take. They will be introduced to an variety of learning, ideas and approaches which all belongs in the marketplace of modern life. One example of this is practising mindfulness meditations at the start of a coaching session. This can help relax the client and create greater awareness of what it is they want to change. Sessions can be either face-to-face or virtual via SKYPE, Zoom or telephone usually lasting for an hour and over six sessions.
Counselling 
During this time we are able to offer free of charge online counselling via phone or skype to anyone affected by any cancer. This is easy to set up and can be accessed quickly. If you are interested please either email mary@axminsterandlymecancersupport.co.uk or phone 07512279663.
Thank you – Raymond's Hill Ladies
On Wednesday, March 4, the group presented a cheque for £375 to Kate Vernon from Axminster and Lyme Cancer Support.
Raymond's Hill Ladies Group meet on the first Wednesday of each month from 2pm, at Woodbury Community Hall, near Axminster. Current membership is £12, plus 50p per meeting to cover the costs of refreshments. New members are most welcome.
Thank you – Coastal Craft Collective
A big thank you to Coastal Craft Collective in Seaton who have supplied us with some amazing crafts – cross stitch – candle making – build your own bird table – at an amazing discount so we can supply these along with puzzles and magazines to our clients during this isolation period. Do have a look at their website below they have a lot of great stock available.
Thank you – Macmillan
We also need to do a big shout out to Macmillan who have been amazing support to Mary, Donna & the volunteers during COVID19 and have been generous with a grant which enable us all to help and support everyone.
We were also lucky enough to have a representative from Macmillan on our latest online Volunteer catch up so they know everything the charity are currently doing to help and support our clients with the grants supplied by them.
Macmillan have a wealth of information and support via their website relating to Covid 19 https://www.macmillan.org.uk/coronavirus.  Please note that any urgent issues should still be referred to your oncologist or Clinical Nurse Specialist.  The Macmillan Support Line is open and free to call: 0808 8080000 seven days a week, 9am – 5pm.  There is a Macmillan online community https://community.macmillan.org.uk/?_ga=2.262204556.1005417077.1584443318-1429638338.1580739434
.
The Penny Brohn UK Centre
The Penny Brohn UK Centre 
www.pennybrohn.org.uk
 provides many resources and at this time ,online resources, including a series of free online classes from international leaders in health, well being, psychology and lifestyle.  They are also running a Helpline 0303 300 0118 and some 1:1 services.  Just contact 
bookings@pennybrohn.org.uk
 if you have any concerns or just need to talk.
There is also a link below to a talk by Dr Catherine Zollman, Medical Director of Penny Brohn UK and an NHS GP. She addresses some of the anxiety in the cancer community about coronavirus and busts a few myths around this – it is 11 minutes long but very much worth the watch. https://www.pennybrohn.org.uk/news/myth-busting-coronavirus/
.
RECIPE BOOK!
We would like you to send us your favourite recipe with a photo and story as to why it is your favourite. It may be a recipe from childhood, a firm family 'go to' or something that has a lovely story behind it. We will print these up and aim for them to be available to buy in the autumn. We can do all this remotely so I do hope you can send in contributions!
Please send to admin@axminsterandlymecancersupport.co.uk
Axminster & Lyme Cancer Support –
Client Questionnaire.
At Axminster & Lyme Cancer Support we would love your feedback to help us continue to help with everyone's needs and requirements as much as possible.
If you could click the link or scan the QR code below and answer a few questions. This is open to everyone who follows and supports the charity. We will also have hard copies at drop-in each week for the next couple of months.
Your opinion matters to us and it also helps us with grants to know what people think about the services we provide.
Thank you in advance
ALCS
https://www.surveymonkey.co.uk/r/ALCSDrop-in
Easyfundraising
Please help support us by shopping online.  Use easyfundraising to shop with over 3.600 retailers including Argos, John Lewis, ASOS, booking.com, eBay, Boden and M&S.
Every time you shop, you'll raise a free donation for Axminster and Lyme Cancer Support – its that easy!
Start Easyfundraising today!.
Co-op Local Community Fund
Axminster and Lyme Cancer Support has been chosen to benefit from the next round of the Co-op Local Community Fund.
The funding has started so please do register your loyalty card so 1p of each £1 is given to ALCS.
Not a member?  Join here.  No matter which Co-op you use, the funds will come to the charity.
Recommended Reading
I have received some lovely stories from some of the 30+ people who received a copy of this this month. It seems most were read outside with a cup of tea but so happy to hear it was enjoyed. Please let us know if you would like to receive another copy or another magazine during the lockdown.
Would you like to volunteer with us?
If you would like to join us, or know anyone who could help us with administration, hosting our drop-in sessions, fundraising etc, please get in touch.
Dates for your diaryWeekly drop-in sessions


Our weekly drop-in sessions have currently halted but we have set up a virtual one on Mondays 2-3pm via Zoom. Please do message us for more information if you have not already joined in or information is posted via Facebook and the website.

We have now held several 'drop in' via zoom now and they are proving to be a success, we swap top tips, exchange some positive stories and support where we can.

Zoom is free to join, just download the app on any device. As with all of these platforms it is recommended to check the privacy settings and unsubscribe to advertising. This should be an option when you sign up if not at the bottom of the confirmation email.
Fermented Food Workshops
We are delighted to be able to announce our fermented food workshops for 2020. Over the year we will be taught by Tiffany from Culture Love all about kefir (water and dairy), kombucha, sauerkraut, kimchi and there will be an opportunity to have take home ideas.Dates for 2020 are as follows:
1st June – Kimchi
7th September – Kefir
November – Date and Workshop to be confirmed.

The benefits are well reported across the medical press now although this style of food has been used in many of cultures for 1000's of years. More information can be seen on Tiffany's website 

https://culturelove.co.uk/

Numbers are limited so please do let me know if you would like to attend mary@axminsterandlymecancersupport.co.uk
There is no cost to this event, as it is funded by the charity but donations are always appreciated.
They will be held at the Lyme Regis Football Club.
Mini Workshops
We are delighted to be able to welcome Ellie Sturrock back to do some mini workshops:
Sleep Workshop
Monday 18th May
3-4pm Lyme Regis Football Club
Mindfulness
Monday 22nd June
3-4pm Lyme Regis Football Club
Nordic Walking – Currently Postponed
As soon as dates are available we will let you know.
If you know anyone who would like to receive this newsletter, please ask them to sign up via here or email admin@axminsterandlymecancersupport.co.uk and we will add them to our mailing list. We are happy to send newsletters by post, if needed.  Past editions can be found on our website