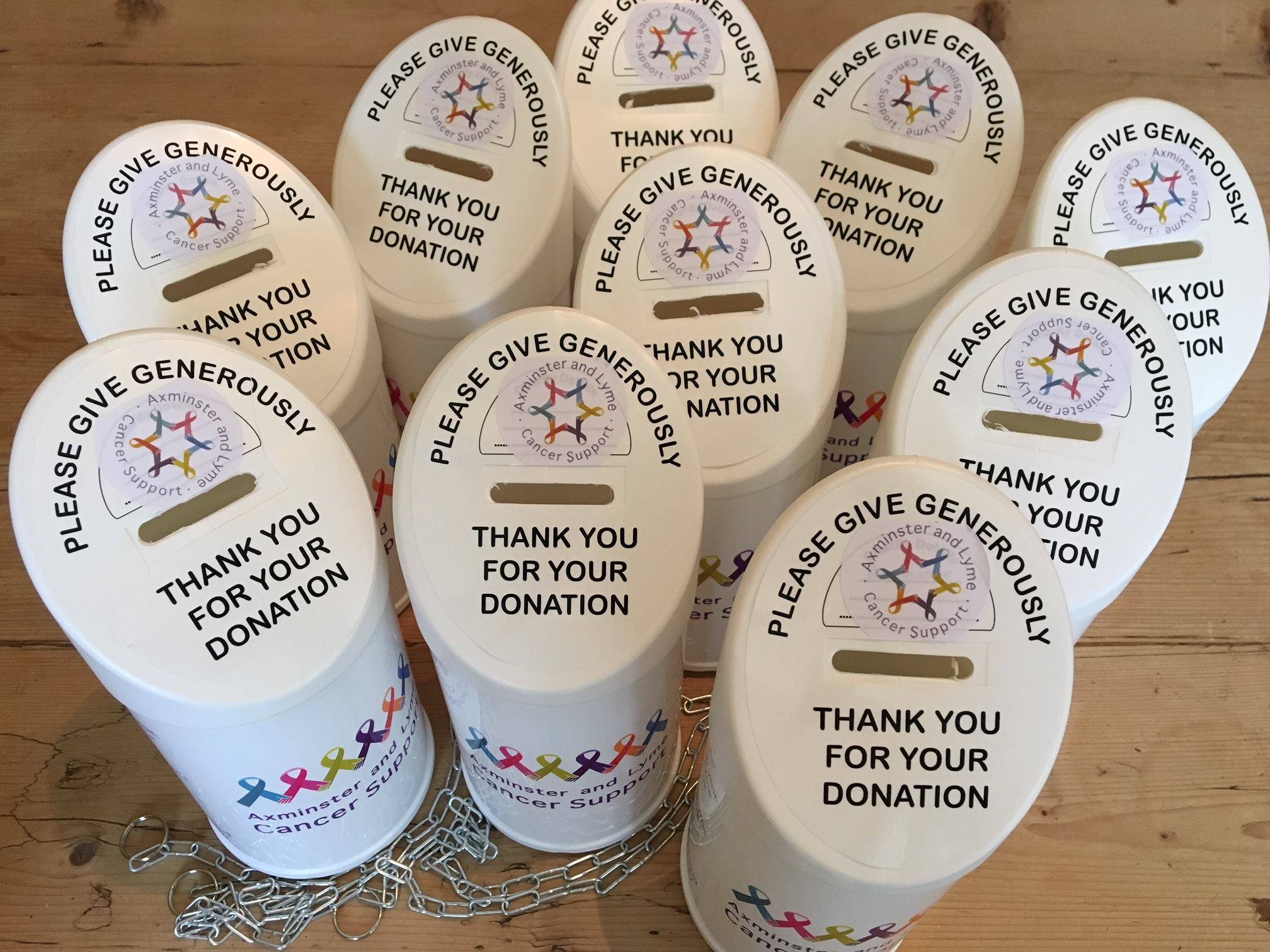 Welcome to Newsletter No 4 !
Thank-you for signing up and supporting us so far. We would like to wish you all a relaxing and happy Christmas and look forward to seeing you in 2019.
If you know anyone who would like to receive this newsletter, please ask them to sign up via our website or email admin@axminsterandlymecancersupport.co.uk and we will add them to our mailing list. We are happy to send newsletters by post, so if you know of anyone who would like to hear from us in this way, please let us know.
A quick fundraising update…
We're pleased to report that we now have collection pots in 32 locations in and around Axminster and Lyme Regis. We're incredibly grateful to all those businesses who have agreed to have a collection pot at their premises… and look foward to counting the contents in the coming weeks and months. We'll keep you posted on how much we're collecting and which businesses they've come from. So far, we've raised £47 from collection pots at our events and £46.68 from pots at our drop-in sessions.
If you know of anyone who could take a collection pot for us, please email info@axminsterandlymecancersupport.co.uk .
Recommended Reading
We are currently building a library which is available to anyone attending our drop-in sessions. The library contains books on a variety of topics, all of which are aimed at helping people living with and beyond cancer.At this time of year you may like to consider spending some time to be mindful before enjoying some chocolate!"David Michie demonstrates a fine knack for capturing the essence of this important topic and presenting it in a fun and accessible way. In Mindfulness is Better than Chocolate he perfectly explains what mindfulness is, why it's important and, most notably, how we can practice and integrate it into our lives. I know for a fact that mindfulness can enhance health and happiness; this book will help any reader become more mindful."
–Dr. Timothy Sharp, The Happiness Institute
Supplier Of The Month
When we first looked at hosting our drop-in sessions, we had to decide on a Lyme Regis location – no mean feat in a town as busy as Lyme! So we would like to thank Ali McLoughlin at the Pop Up Kitchen in Broad Street for allowing us the use of her premises free of charge for our sessions in 2018. The Pop Up Kitchen offer a variety of different food and drink options, with a regular vegan kitchen on Mondays and Tuesdays. Their website is regularly updated with new events at www.thepopup.kitchen/  or if you need a venue for a catering event you can contact Ali on 07803 574548 .
Dates for your diary
Just a reminder that from 7th January 2019, our drop-in sessions will be weekly. We will move to our new Lyme Regis venue, The Football Club, from Monday 7th January. The next session will be in Axminster on 14th January, and will alternate between Lyme and Axminster weekly thereafter. Sessions in both locations will now be from 2pm to 4pm.CPD training for our therapists will now take place on 29th January 10am – 2.30pm and our next volunteer training session will be on 26th February 10am – 2pm.Also – do please put our next fundraisers in your diaries:
Auction Of Promises on 30th March 2019
Afternoon Tea Party on 29th August 2019
We look forward to seeing you at one of our future events or drop-in sessions. Thanks again for your continued support.
Kind Regards
Mary Kahn
Founder