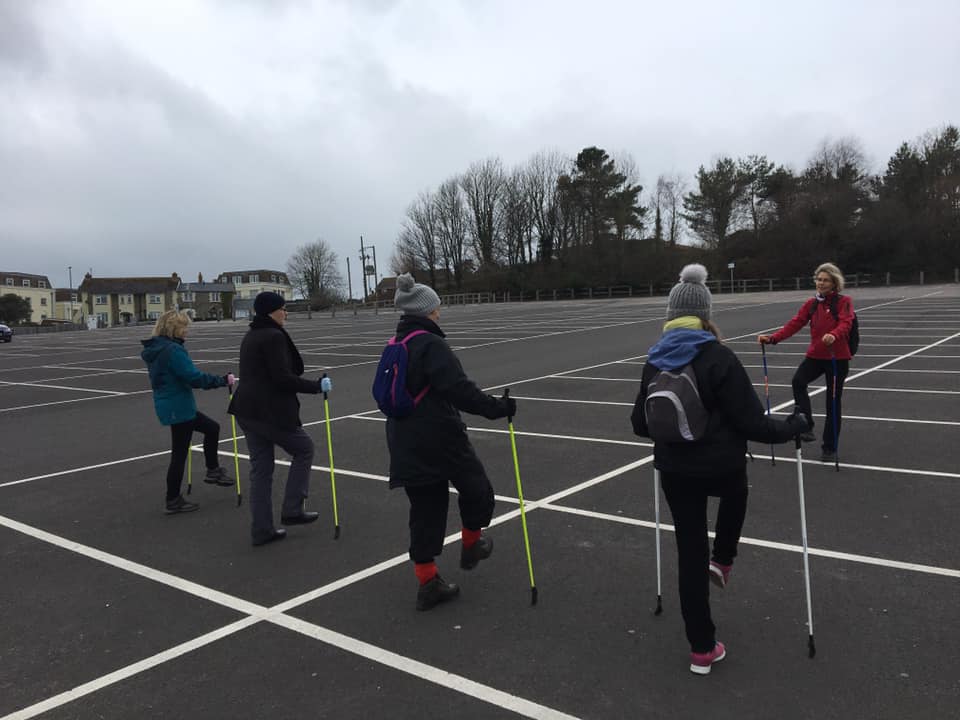 Newsletter No. 5 – January 2019
Nordic Walking Sessions at Lyme – Come and Join Us!
We held our first Nordic Walking lesson at Lyme Regis on 7th January. Gillian took us through our paces, introducing the basic steps and techniques, which was thoroughly enjoyed by the ladies who took part – lots of smiling faces at the end of the session! Then it was back to the football club for homemade soup and bread, a cuppa and a chat.
There are 4 more sessions planned – the next is on 4th Feb, then 18th Feb, 4th & 11th March. Each session starts at 12.30, and everyone is welcome to stay on for lunch and the drop-in session. These sessions are free, we just ask for a donation towards the cost of lunch. Look forward to seeing you there! Please email admin@axminsterandlymecancersupport.co.uk  if you'd like any further information, or to register to attend.
Recommended Reading
We are currently building a library which is available to anyone attending our drop-in sessions. The library contains books on a variety of topics, all of which are aimed at helping people living with and beyond cancer. 
Our recommendation for this month is The Rainbow Diet: And How it Can Help You Beat Cancer Paperback by Chris Woollams.
An excellent book which gives plenty of information to help make choices regarding your diet. Lots of ideas and top tips! 
Supplier Of The Month
This month we would like to say a huge thank-you to Jane Rockett at Axminster Printing. We have been working with Jane since our charity was first set up and we are incredibly appreciative of her advice and support in providing us with our leaflets and publicity materials at very competitive prices.
Axminster Printing are tucked away just off West Street in Axminster – it's an  Aladdin's cave of stationery items and craft supplies, as well as offering state of the art printing and production facilities. For more information check out their website  www.axminsterprinting.co.uk   or call 01297 32266 or email jane@axminsterprinting.co.uk . You can also check out their Facebook page https://www.facebook.com/axminsterprinting/
Our auction of promises is fast approaching!
We will be holding the auction at Lyme Regis Golf Club on Saturday 30th March. We even have a celebrity auctioneer – Graham Barton from Homes Under The Hammer will be taking the bids and swinging his gavel!Are you able to donate a gift for us to auction? We would be so grateful for any donations to add to some very exciting prizes which have already been promised. Please save the date in your diary – we will be selling tickets for the event soon – more info to follow!
Dates for your diary
Just a reminder that our drop-in sessions will now be weekly. We're really enjoying our new Lyme Regis venue, The Football Club. The next session will be in Axminster on 28th January, and will alternate between Lyme and Axminster weekly thereafter. Sessions in both locations will now be from 2pm to 4pm.CPD training for our therapists takes place on 29th January 10am – 2.30pm and our next Volunteer training session will be on 26th February 10am – 2pm.Mindfulness sessions – coming soon! We will let you know as soon as we have dates and further information.Also – do please put our next fundraisers in your diaries:
Auction Of Promises on 30th March 2019
Men's Brunch – date to be arranged.
Afternoon Tea Party on 29th August 2019
We look forward to seeing you at one of our future events or drop-in sessions. Thanks again for your continued support.
Kind Regards
Mary Kahn
Founder