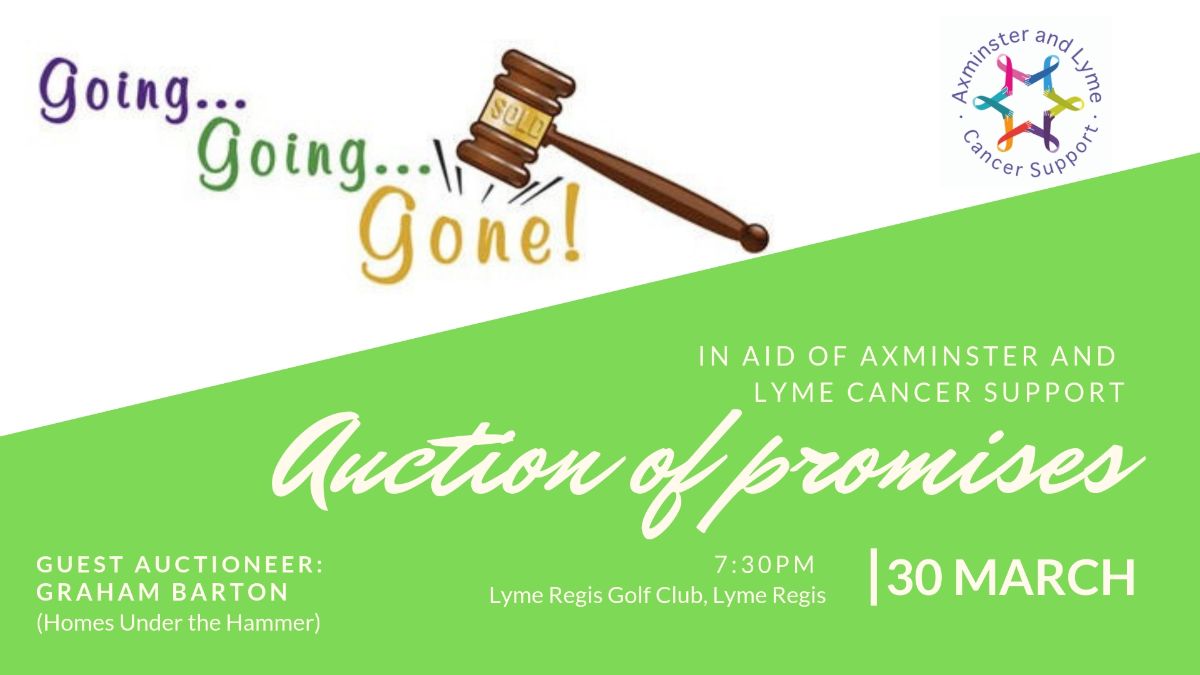 Newsletter No. 6 – February 2019
MEDIA RELEASE
Registered Charity Status is Awarded – Volunteers Needed.
Axminster and Lyme Cancer Support are pleased to announce that they have been granted Charity Status and are registered with the Charity Commission. The charity was set up only 5 months ago to support anyone affected by any cancer in the Axminster and Lyme Regis areas.
The Axminster and Lyme Regis Cancer Support is registered charity 1182035 and charity status was granted on 14th February 2019.
Mary Kahn, founder of the charity said: "We are delighted that the Charity Commission has supported our application and we are now registered. Our trustees and committee members have been working hard since our launch in October 2018 and this development is an exciting one in our plans to support local people affected by cancer. It will open up new opportunities for income while endorsing those already in place. We have been overwhelmed with support from local businesses and the community. We would like to thank everyone who has been involved especially our team of volunteers".
Chair of Trustees, Nick Hodges, says "I am extraordinarily privileged to be involved with Axminster and Lyme Cancer Support, and I would like to congratulate and thank Mary, our founder, and Tracey, our wonderful administrator for their amazing dedication to the project. The whole team have already achieved so much in just a few short months, and now that we have charitable status we can do so much more."
We urgently need more volunteers to help us spread the word and enable us to deliver more help and support to those in need. Do please get in touch if you feel you can help us in any way. Thank you.
For any man affected by any cancer in any way – or for those who would like to learn more.
Do please join us at Swim, on Marine Parade Lyme Regis, Saturday March 2nd between 9am and 10.30.
Enjoy a free brunch – traditional Full English or vegetarian cooked breakfast, toast, tea and coffee. It's time for blokes to talk !
Recommended Reading
We are currently building a library which is available to anyone attending our drop-in sessions. The library contains books on a variety of topics, all of which are aimed at helping people living with and beyond cancer. 
Our recommendation for this month is Radical Remission: Surviving Cancer Against All The Odds by Kelly A Turner Ph.D.
A recent review on Amazon says:  "Inspirational. Has made me review my outlook on life and confirmed me in my gut feeling that I can survive my cancer, despite it's statistically damning prognosis, and turn both it and my life around."
Supplier Of The Month
Since we first started our drop-in sessions in both Axminster and Lyme, Tesco Axminster have been keen to support us. They have donated regular supplies of tea, coffee, herbal teas and other refreshments. When visitors arrive at a drop-in, they can always be assured of a warm welcome and a cuppa. So our thanks go to Tesco for the support they are offering our community.
The latest on our auction of promises
We will be holding the auction at Lyme Regis Golf Club on Saturday 30th March. We even have a celebrity auctioneer – Graham Barton from Homes Under The Hammer will be taking the bids and swinging his gavel!We're thrilled to announce that TWO of our lots are week-long holiday breaks – one in a cottage in Lyme Regis and the other a lochside apartment! In addition, we have many other exciting lots to auction – there will be something for everyone. Tickets are now available at £10 each, on sale at Lyme Regis Golf Club or email mary@axminsterandlymecancersupport.co.uk . We look forward to seeing you there!
Dates for your diary
Just a reminder that our drop-in sessions will now be weekly. We're really enjoying our new Lyme Regis venue, The Football Club. The next session will be in Axminster on 25th February, and will alternate between Lyme and Axminster weekly thereafter. Sessions in both locations will now be from 2pm to 4pm.Mindfulness sessions – coming soon! We will let you know as soon as we have dates and further information.Also – do please put our next fundraisers in your diaries:
Auction Of Promises on 30th March
Men's Brunch – March 2nd at Swim, Lyme Regis seafront.
Afternoon Tea Party on 29th August
We look forward to seeing you at one of our future events or drop-in sessions. Thanks again for your continued support.
Kind Regards
Mary Kahn
Founder