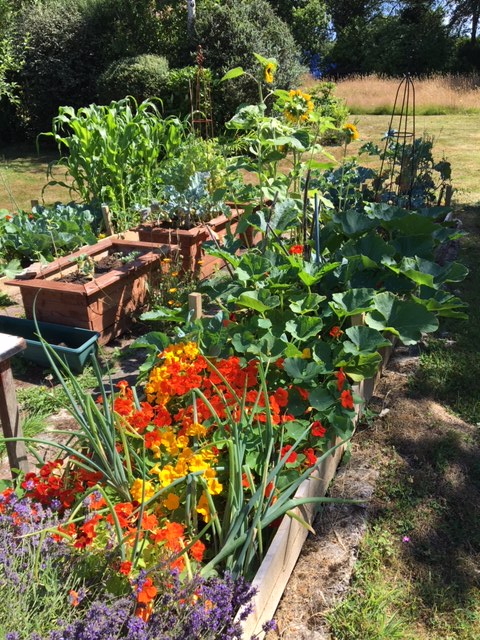 Newsletter No.11 – July 2019
So school has broken up and the summer is proving to be quite magical, for many of us there is so much joy in seeing gardens burst full of colour and produce. I seem to have got a few things right in my garden and we are enjoying lots of produce but I also feel the rabbits and deer are delighted with my harvest! I am currently having a negotiation with our birds to try and ensure I win at the race to get our blueberries, despite netting them our feathered friends still manage to get in!
Bruce and I went to Trewfields festival in early July, this is the third Holistic Health and Cancer Awareness Festival held over the weekend. An incredible line up of international, inspirational speakers, many stage four 'thrivers' , several leading medical professionals , we learnt a lot. There were workshops on fermented food, breathing, nutrition, meditation  and in between lots of music, art, laughter and yoga. We have written up our notes and a hard copy is available at the drop in sessions or I can send on request. If you are interested in attending next year they have a facebook page, and website https://trewfields.com/
Stripy Picnic
On 29th June the annual Stripy Picnic was held on Lyme Regis beach, this event is arranged every year by her family to celebrate and remember Chrissie Robson who passed away in June 2015. Chrissie had pancreatic cancer and was an inspiration in how she lived her life. Donations on the day of the picnic made by her family and friends came to £206.41 and every penny will go directly to helping those affected by cancer living in the local area. Thank-you to you all.
Bottomless Afternoon Tea
Thursday 29th August 3-5pm
LA VIE EN ROSE 
DIARY DATE – FRIDAY 6 SEPTEMBER
A special pop up event in aid of Axminster and Lyme Cancer Support – Friday 6th September with the fabulous festival favourite La Vie en Rose at Uplyme Village Hall. Tickets
are now on sale at thelittleboxoffice.com/jazzjurassica
– £25 – which includes a sumptuous Indian banquet courtesy of Khushi Kitchen.  In the meantime pop the date in your diary – it'll be fantastic! 
Tickets are selling fast so please grab yours now!
Recommended Reading
This month's book is from Dr Nasha Winters, we heard her speak at the Trewfields Festival and her message was very powerful about the benefit of looking at diet to support treatment when faced with cancer. 'Integrating Deep Nutrition, the ketogenic Diet and Nontoxic Bio-Individualised Therapies'. Please note that while the research is constantly moving regarding additional aspects of cancer care, if you are planning on changing your lifestyle/diet this should be done in consultation with your doctor.
A thank-you
This spot is where we say a thank-you to a local company, shop or person who has given us particular help with the charity. This month we would like to thank our primary healthcare teams at both Axminster Medical Practice, Lyme Regis Medical Practice (includes the Kent House team) and Charmouth Medical Practice.
The GP's, nurse practitioners, nurses, community teams, pharmacy team, and administration delivery an excellent service and we regularly hear at our drop in sessions how much care is given. We are grateful for their dedication and support.
A warm welcome to our two new volunteers, Jane and Donna. We are building a team of volunteers to help us in a variety of ways. If you would like to join us, or know anyone who could help us with administration, hosting our drop-in sessions, fundraising etc, please get in touch. We are holding our next volunteer training session on 25th September. Please email mary@axminsterandlymecancersupport.co.uk for more information on the roles available and an application form.
Dates for your diary
Guided meditation
With Wendy Lowis Bates. Thursdays 11 – 12.30 in Charmouth.
£5.00 per session with fresh mint tea.
Contact wendylowisbates@gmail.com
Weekly drop-in sessions
Our weekly drop-in sessions will continue – do please pop along for a cuppa and a chat. Sessions are held at the Scott Rowe room, Axminster Hospital and the Football Club, Lyme Regis. The next few sessions are:
Monday 5th August – Axmister, 2-4pm
Monday 12th August – Lyme Regis, 2-4pm
Monday 19th August – Axminster, 2-4pm
Monday 2nd September – Lyme Regis, 2-4pm
Monday 9th September – Axminster, 2-4pm
Monday 16th September – Lyme Regis, 2-4pm
Monday 23rd September – Axminster, 2-4pm
Monday 30th September – Lyme Regis, 2-4pm
Mindfulness sessions – We are delighted to be able to work with Ellie Sturrock who is a Cognitive Behaviour Therapist, a trained nurse in mental health. Ellie works in the NHS across west Dorset and will be offering a second introduction to mindfulness at Lyme Regis Medical Practice on Thursday 15th August 10-11.30am. . This is a free session and available to all, please let me know if you would like to come along. mary@axminsterandlymecancersupport.co.uk
There will be an 8 week mindfulness course starting on Thursday 12th September, if you would like to book a place please register https://www.steps2wellbeing.co.uk/do/low_intensity_support/courses/ or pick up a leaflet at the drop in session.
Nordic Walking
We are delighted to have arranged with Gillian Butcher from Lyme Bay Nordic Walking to provide fortnightly Nordic Walks in the areas.
To be eligible to join this walk, please register with the charity by contacting Mary admin@axminsterandlymecancersupport.co.uk  or Mobile 07512279663. Once registered you can book your place on walks on a week to week basis with Gillian lymebaynordicwalking@gmail.com  and information about the walks will come out via weekly emails.
There is no charge for this walk but a suggested donation of £2 would be appreciated and each walker will need to pay the £1 pole hire unless they have their own.  We have had offers of help with transport so please advise if you would like a lift and your address/pick up point.
There are funds available to help with the initial lessons if you are new to Nordic Walking. The first one is 31st July 2pm, then 7th August 2pm and then every two weeks:
31st July, 7 August, 21 August
4 September, 18 September
2 October, 16 October, 30 October
13 November, 27 November, 11 December
More dates for your diaries:
Volunteer training 25th September 1.30-4pm Heathermoor
Macmillan Coffee Morning 27th September  Hawkchurch Village Hall 10-12noon
Living Well With Cancer Thursday 3rd October 9.30-15.00 Lyme Regis (this is a Macmillan event and highly recommended ServiceOpsLearning@macmillan.org.uk details at drop in or from the website.)
Volunteer training 4th December 1-4pm
Also – do please put our next fundraisers in your diaries:
Bottomless Afternoon tea party – Thursday 29th August 3-5pm

Jazz Supper – Friday 6th September 7.30pm Uplyme Village Hall
Quiz Night Friday – 15th November 6.30pm Uplyme Scout Hut
We look forward to seeing you at one of our future events or drop-in sessions. Thanks again for your continued support.
Kind Regards
Mary Kahn
Founder
Copyright © *|CURRENT_YEAR|* *|LIST:COMPANY|*, All rights reserved.
*|IFNOT:ARCHIVE_PAGE|*
*|LIST:DESCRIPTION|*
Our mailing address is:
*|HTML:LIST_ADDRESS_HTML|* *|END:IF|*
Want to change how you receive these emails?
You can update your preferences or unsubscribe from this list.
*|IF:REWARDS|* *|HTML:REWARDS|*
*|END:IF|*