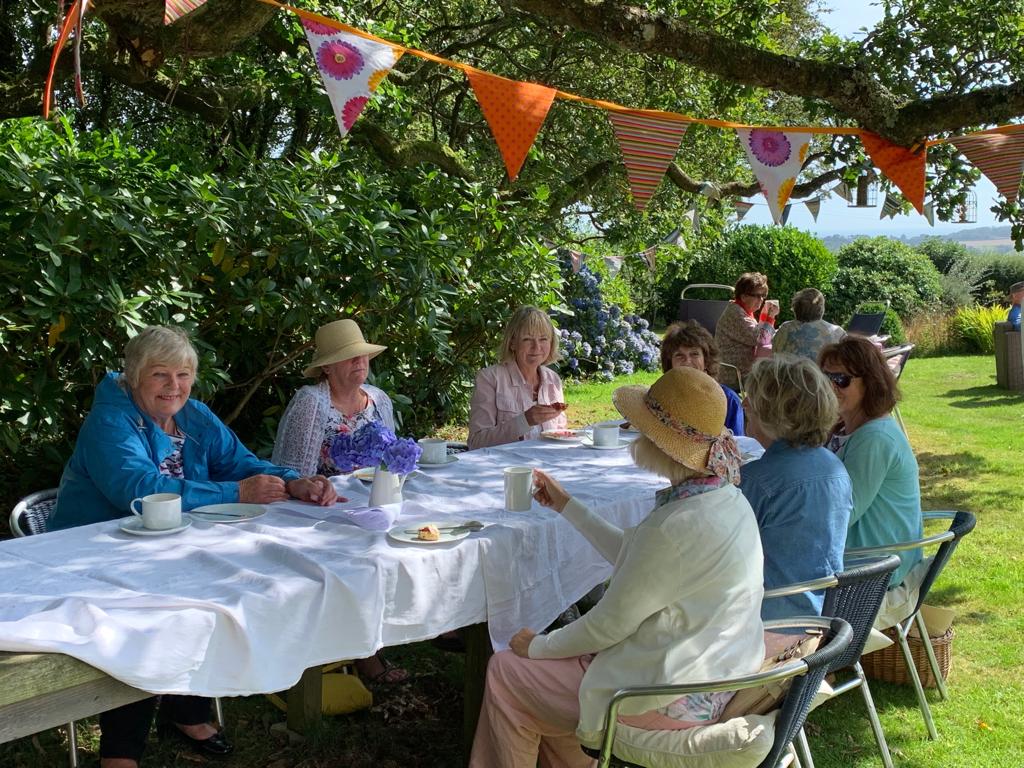 Newsletter No.12 – August 2019
August has flown by! It feels like we have had every type of weather in the last month and the change to autumnal air can be felt especially in the mornings.  
We are saddened that on August 24th Julie Musto passed away. Julie was diagnosed in the summer of 2016 and faced her cancer full on with an incredible strength, amazing humour and gave so much love to all around. She will be desperately missed by many and especially by her husband, daughters, parents, family and friends.  This time last year she helped us on the raffle at the afternoon tea party just before celebrating her 50th birthday.
We held our 2nd Bottomless Afternoon Tea Party on 29th August and were delighted the weather was kind and we were able to welcome more than 50 people to join us for homemade cakes, scones and jam. Everyone was very generous and we raised £606.15.  Lots of Thank-you's to those who supported us and came and also to the  following:
Anne Townsend  and Wendy Lowis Bates for bringing their art and jewellery, Pam Corbin for making the raspberry jam, Patricia Bruzon for bringing lots of donations from Axminster Country Market, our cake/scone makers Mary, Bruce, Kate, Anne, Maggie, Jane, Emma and Patricia.  Thank you to all who generously donated raffle prizes. We are celebrating a year since we started and so much has happened – many people sadly need support, so every pound raised is very much appreciated.
Help us to fundraise
With thanks to Kevin, our treasurer, we now have two more ways you can contribute to the charity. We have added a donate button to the website where you can do a one off donation or set up a monthly standing order through Localgiving. We are able to claim gift aid so please do support us, the gift aid makes such a difference.
You can also sign up for EasyFundrasing – every time you shop online, at no cost to you, we receive donations from the participating stores.  Sign up today!
Further details on our website
Death Cafe comes to Lyme Regis.
The Lyme Regis Death Cafe is a monthly pop-up event in central Lyme.  All are welcome and there's no agenda other than to facilitate conversation about death, and to enjoy free tea, coffee and cake.
Find out more
Good-Bye and Thank-you
One of the first therapists to come and support our charity has moved to be nearer her family in East Sussex and we are sorry to see Theresa Russell go. Theresa also used to pop in for a cuppa and a chat at the drop in sessions and brought a friendly smile and willing ear .
She has very kindly donated a book for our library. Not the Last Good-Bye by Dr David Servan-Schreiber.
 Thank-you Theresa and we hope you will be very happy in your new home x
LA VIE EN ROSE 
FRIDAY 6 SEPTEMBER
Last chance to book your ticket before ticket sales close!
A special pop up event in aid of Axminster and Lyme Cancer Support – Friday 6th September with the fabulous festival favourite La Vie en Rose at Uplyme Village Hall. Tickets
are now on sale at thelittleboxoffice.com/jazzjurassica
– £25 – which includes a sumptuous Indian banquet courtesy of Khushi Kitchen. 
Recommended Reading
This month's book was recommended to us a lady who has recently been diagnosed with breast cancer . Her husband has read it as well and at a time when everything can be very overwhelming, this book has given them some helpful information . Macmillan has described the book as 'Humane and based on robust evidence'.
This book is now in our library so available to borrow free of charge.
W

ould you like to volunteer with us? We are building a team of volunteers to help us in a variety of ways. If you would like to join us, or know anyone who could help us with administration, hosting our drop-in sessions, fundraising etc, please get in touch. We are holding our next volunteer training session on 25th September. Please email mary@axminsterandlymecancersupport.co.uk for more information on the roles available and an application form.
Dates for your diary
Guided meditation
With Wendy Lowis Bates. Thursdays 11 – 12.30 in Charmouth.
£5.00 per session with fresh mint tea.
Contact wendylowisbates@gmail.com
Weekly drop-in sessions
Our weekly drop-in sessions will continue – do please pop along for a cuppa and a chat. Sessions are held at the Scott Rowe room, Axminster Hospital and the Football Club, Lyme Regis. The next few sessions are:
Monday 9th September – Axminster, 2-4pm
Monday 16th September – Lyme Regis, 2-4pm
Monday 23rd September – Axminster, 2-4pm
Monday 30th September – Lyme Regis, 2-4pm
Nordic Walking
We are delighted to have arranged with Gillian Butcher from Lyme Bay Nordic Walking to provide fortnightly Nordic Walks in the areas.
To be eligible to join this walk, please register with the charity by contacting Mary admin@axminsterandlymecancersupport.co.uk  or Mobile 07512279663. Once registered you can book your place on walks on a week to week basis with Gillian lymebaynordicwalking@gmail.com  and information about the walks will come out via weekly emails.
There is no charge for this walk but a suggested donation of £2 would be appreciated and each walker will need to pay the £1 pole hire unless they have their own.  We have had offers of help with transport so please advise if you would like a lift and your address/pick up point.
There are funds available to help with the initial lessons if you are new to Nordic Walking. The first one is 31st July 2pm, then 7th August 2pm and then every two weeks:
4 September, 18 September
2 October, 16 October, 30 October
13 November, 27 November, 11 December
More dates for your diaries:
Volunteer training 25th September 1.30-4pm Heathermoor
Macmillan Coffee Morning 27th September  Hawkchurch Village Hall 10-12noon
Living Well With Cancer Thursday 3rd October 9.30-15.00 Lyme Regis (this is a Macmillan event and highly recommended ServiceOpsLearning@macmillan.org.uk details at drop in or from the website.)
Volunteer training 4th December 1-4pm
Also – do please put our next fundraisers in your diaries:
Jazz Supper – Friday 6th September 7.30pm Uplyme Village Hall
Quiz Night Friday – 15th November 6.30pm Uplyme Scout Hut
We look forward to seeing you at one of our future events or drop-in sessions. Thanks again for your continued support.
Kind Regards
Mary Kahn
Founder