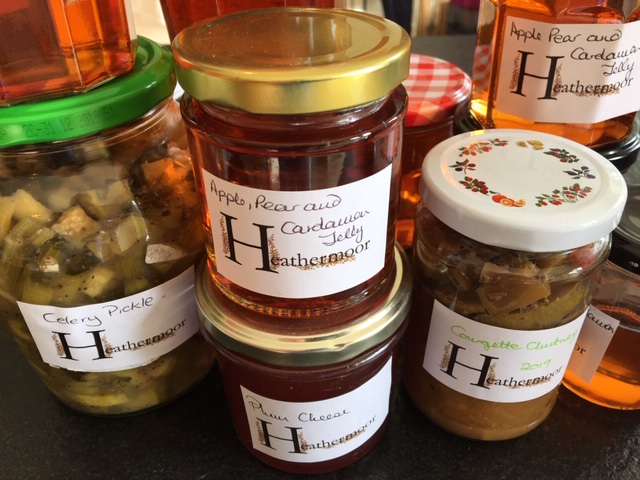 Newsletter No.13 – September 2019
We are now into glorious autumn, my favourite month. I love the change in seasons, the colours in nature and the excitement of wearing woolly hats again! We are also blessed at home to have had a huge glut of apples, pears and tomatoes along with other fruit and vegetables – we are making a lot of chutney. I will be bringing a few jars along to drop in if anyone would like to try some! It may be  a little early to mention Christmas but if you send cards please do consider buying a few of our wonderful water colour Christmas cards painted by our volunteer Maggie Stead (aka my Mum!). They are available at our drop in and also from Archway bookshop and Busy Bees Florist.
Fabulous evening of Jazz
A huge thank you to Julie Shepherd, Jazz Jurassica, for working with us to provide an incredible evening of Jazz music, food and a wonderful atmosphere.  With the donation from Jazz Jurassica and the raffle, we raised over £1600 which is fantastic.
Join us for a fun Quiz Night!
Friday 15th November at Uplyme Scout Hut.
Doors open at 6.30pm, quiz starts at 7pm
4 rounds of questions plus one activity round.
£3 per person
Teams are welcome or come on your own and join a friendly team.
Refreshments will be available:  cheeseboard, chocolate brownies, drinks
Help us to fundraise
With thanks to Kevin, our treasurer, we now have two more ways you can contribute to the charity. We have added a donate button to the website where you can do a one off donation or set up a monthly standing order through Localgiving. We are able to claim gift aid so please do support us, the gift aid makes such a difference.
You can also sign up for EasyFundrasing – every time you shop online, at no cost to you, we receive donations from the participating stores.  Sign up today!
Further details on our website
Death Cafe comes to Lyme Regis.
The Lyme Regis Death Cafe is a monthly pop-up event in central Lyme.  All are welcome and there's no agenda other than to facilitate conversation about death, and to enjoy free tea, coffee and cake.
Find out more
Recommended Reading
This month's
we thought instead of a book recommendation we would share a favourite autumnal poem . We have several poetry book in our library and are looking at maybe holding a creative writing course next year for any budding writers.
Vicary and Co supporting local charities
At Vicary and Co we are strong believers in supporting both local businesses and charities e.g. we already support Bridport Youth Dance, Bridport Hat Festival and Bridport Leisure Centre. We wish to continue providing support via our NEW sales team (Sales Manager Kelsey Lawrence and Negotiator Alex Cumbers based in Axminster) and therefore the reward for a successful sales referral can be chosen for Axminster and Lyme Cancer Support
Donation to the value of £50 to the Axminster and Lyme Cancer Support.
W

ould you like to volunteer with us? We are building a team of volunteers to help us in a variety of ways. If you would like to join us, or know anyone who could help us with administration, hosting our drop-in sessions, fundraising etc, please get in touch. We are holding our volunteer training sessions on 8th October and 4th December. Please email mary@axminsterandlymecancersupport.co.uk for more information on the roles available and an application form.
Dates for your diary
Guided meditation
With Wendy Lowis Bates. Thursdays 11 – 12.30 in Charmouth.
£5.00 per session with fresh mint tea.
Contact wendylowisbates@gmail.com
Weekly drop-in sessions
Our weekly drop-in sessions will continue – do please pop along for a cuppa and a chat. Sessions are held at the Scott Rowe room, Axminster Hospital and the Football Club, Lyme Regis. The next few sessions are:
Monday 7th October – Axminster, 2-4pm
Monday 14th October – Lyme Regis, 2-4pm
Monday 21st October – Axminster, 2-4pm
Monday 28th October – Lyme Regis, 2-4pm
Monday 4th November – Axminster, 2-4pm
Nordic Walking
We are delighted to have arranged with Gillian Butcher from Lyme Bay Nordic Walking to provide fortnightly Nordic Walks in the areas.
To be eligible to join this walk, please register with the charity by contacting Mary admin@axminsterandlymecancersupport.co.uk  or Mobile 07512279663. Once registered you can book your place on walks on a week to week basis with Gillian lymebaynordicwalking@gmail.com  and information about the walks will come out via weekly emails.
There is no charge for this walk but a suggested donation of £2 would be appreciated and each walker will need to pay the £1 pole hire unless they have their own.  We have had offers of help with transport so please advise if you would like a lift and your address/pick up point.
There are funds available to help with the initial lessons if you are new to Nordic Walking.
16 October, 30 October
13 November, 27 November, 11 December
More dates for your diaries:
Volunteer training 8th October 1.30-4pm Heathermoor

Living Well With Cancer Thursday 3rd October 9.30-15.00 Lyme Regis (this is a Macmillan event and highly recommended ServiceOpsLearning@macmillan.org.uk details at drop in or from the website.)
Volunteer training 4th December 1-4pm
Also – do please put our next fundraisers in your diaries:
Quiz Night Friday – 15th November 6.30pm Uplyme Scout Hut
We look forward to seeing you at one of our future events or drop-in sessions. Thank you again for your continued support.
Kind Regards
Mary Kahn
Founder
If you know anyone who would like to receive this newsletter, please ask them to sign up via here or email admin@axminsterandlymecancersupport.co.uk and we will add them to our mailing list. We are happy to send newsletters by post, if needed.  Past editions can be found on our website
Copyright © *|CURRENT_YEAR|* *|LIST:COMPANY|*, All rights reserved.
*|IFNOT:ARCHIVE_PAGE|*
*|LIST:DESCRIPTION|*
Our mailing address is:
*|HTML:LIST_ADDRESS_HTML|* *|END:IF|*
Want to change how you receive these emails?
You can update your preferences or unsubscribe from this list.
*|IF:REWARDS|* *|HTML:REWARDS|*
*|END:IF|*