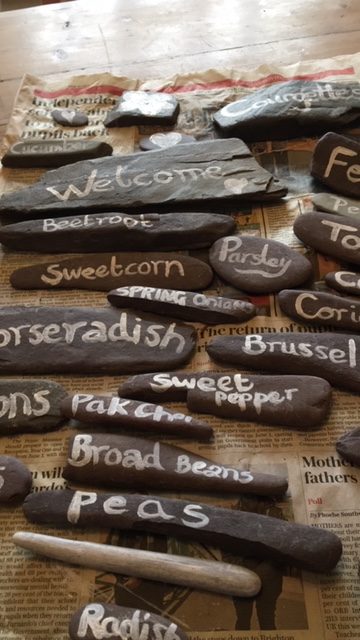 Newsletter No.22 – June 2020
There will be times we all look back at the time spent during Covid-19 doing things we wouldn't normally have done, for me painting stones to mark my vegetables will be one! I had run out of labels and really didn't think it was essential so using stones we had collected over a decade ago I got painting! They do actually look pretty in the vegetable garden now things are really growing. I didn't do one for weeds as didn't have enough!

We have welcomed some new people to our virtual drop in's this month and are hearing of how hard it is going to hospital appointments alone and facing treatments, scans, tests, results, masked up and alone. Many very kind hospital staff going the extra mile to try and offer support and for this we are all grateful.

There have been for some, family get togethers, quietly and slowly as lockdown eases but for many who are shielding this is making it even harder seeing and hearing about reunions. Over the coming months everyone's experiences and daily life will be so very different and we will try and support all those we can. Please do let us know if you are finding things hard, we are here to help.
Duke is growing fast and has had his first trip to the beach and meet a few 'friends' he is a very happy pup and an absolute joy. There are several other puppies in the group …please send us some photos and we can share them.
Beach Hut – Update
This was captured one morning, very early! Thank-you to Nigel for fixing our new sign, if you are having a walk in Lyme do go and see the beach hut so you know where it is when we open.
Hopefully it won't be long now…
If you would like go on the list for booking the beach hut once we are able to  please drop us an email, more details can be seen on the website
https://axminsterandlymecancersupport.co.uk/beach-hut/
Meet Danielle-Jade Wills! Who has kindly provided us a copy to create a Beach Hut Postcard for our shop.
Dani is a mum of one and legal secretary at a local law firm who enjoys drawing and painting in her spare time. After studying Art at school and in A-Levels her passion continued into her adult life with a variety of styles from simplistic illustrations and prints, to animals, portraits and landscapes of the local area. She hopes to start creating a portfolio of works to make into prints and has also created commissioned bespoke pieces too.
This particular piece is of the lovely seaside town Lyme Regis in Dorset capturing its beauty with playful colour using pencils. The beach huts along the front are an attractive sight loved by many who live in and visit Lyme Regis brightening up the front on even the rainiest of days.
Email: daniellejadeartwork@gmail.com
Facebook: https://www.facebook.com/DanielleJadeArtwork/
Instagram: https://www.instagram.com/daniwillsartwork/
Our Online Shop Is Now OPEN!
Our online shop is now open, you can buy our cards, key-rings, CD's and we will soon be adding postcards to the collection. Then later in the year our very own recipe book and we are working on merchandising ideas to add.
We are offering free delivery for the month of July, all your support is much appreciated.
Just enter the discount code FREEDEL07 at the checkout.
Please click the link to browse our items.
Welcoming Our New Therapist
Zoe King – FIOS MIOS (LC) Swimming Teacher – Water Therapy
Zoe is a  GP referral for exercise consultant with over 20 years experience in swimming teaching and coaching, having set up SwimSouthWest over 15yrs ago and bringing the life skill of swimming to hundreds of children privately and in schools around the SouthWest.  In recent years she has been working more with adults and water therapy.
"I love the diversity of all the magic the water can offer both from a therapeutic angle and the lifesaving and fitness skill of swimming. On a Weekly basis I see people benefitting in the most rewarding ways, physically and psychologically.
A session in the water can be uplifting and relaxing and can enable the body to utilise medication to its maximum benefit and reduce the side effects.
With the support from the water joints can move more freely and exercise with a bigger range of motion, reducing impact due to reduced gravity.
I enjoy the ability to be flexible and bespoke in what I can offer, maybe you would like to swim for fitness and fun, need to improve your crawl or learn to swim with your head in or spend some time enjoying the healing properties of water therapy tailored to your specific needs."
We are able to offer 6 sessions/treatments/therapies to anyone affected by any cancer each year. All workshops and activities are free. Additionally during the pandemic we are able to offer 6 x 1-2-1 Nordic walking , counselling, life coaching, hypnotherapy, online scar tissue release or online yoga 1-2-1. If you would like more information please email mary@axminsterandlymecancersupport.co.uk
Fermented Food. As we weren't able to run our fermented food workshop we asked Tiffany for some words about fermented food. We hope you enjoy reading this. Thank-you Tiffany!
I started my fermenting journey quite by chance 15 years ago when I was given a kefir culture by a friend. I had been struggling with health issues for decades and was amazed how the simple addition of making kefir and adding it to my diet transformed my health.
I have never looked back. Since then there has been am explosion of interest in fermenting, but what seems like a new health trend does in fact have roots going back to ancient civilisations all over the world. Historically, fermenting was a means of preserving foods but as food technologies advanced in the food industry and the desire for convenience foods increased these ancient practices fell by the wayside.
Fermentation of vegetables or dairy products is a simple process which naturally converts sugar into lactic acid. Lactic acid prevents harmful microbial growth while at the same time promoting the growth of good bacteria which increases the amount of nutrients and vitamins are bodies are able to absorb. There is a lot of scientific evidence to support the fact that fermented foods are really good for you, but for a lot of people the process itself can seem a very daunting prospect.
In my workshops the intention is to make it as simple and easy as possible so that can be incorporated into anyone's routine and kitchen. After all, in my mind, if it's easy to do, you'll do it and reap the huge health benefits, of something that's not just healthy, but also fun and delicious! Having a diversity of different foods in our diet can be transformative for our gut health, that's why if you can incorporate different types of fermented food into your diet that's all the better.
The three that I would recommend are known as The Trilogy, kefir, kombucha, and cultured vegetables. Each one of these foods are completely unique with their own combination of good bacteria and yeasts which can enhance the trillions of microorganisms that make up our microbiome allowing them to thrive and multiply. Learning about these foods will also allow you to see which one really resonates with you.
If you feel overwhelmed at the prospect of making them yourself you can buy good makes but just make sure they are not heat treated or pasteurised. Over this last year I have really enjoyed teaching fermenting workshops for the charity. It's been fantastic to meet so many incredible people and share our collective fermenting experience and knowledge. I'm really looking forward to doing more.
In September I will be running a workshop on Kefir which I am passionate about. It will include learning about the huge health benefits of both water kefir and dairy kefir and also how versatile this culture is. I am always available to answer questions and troubleshoot for anyone who has attended a workshop.
Dates for 2020 are as follows:
7th September – Kefir – Bookable on the website shop.
November – Date and Workshop to be confirmed.
The benefits are well reported across the medical press now although this style of food has been used in many of cultures for 1000's of years. More information can be seen on Tiffany's website https://culturelove.co.uk/Numbers are limited but you can book on the website, and they are free! www.axminsterandlymecacnersupport.co.uk
They will be held at the Lyme Regis Football Club.
Ocean Poem by Danica Drew age 8
Please don't pollute the ocean
this makes me sad emotions, 
When you go to the beach
take your rubbish and receipts,
Put it in the dustbin or the boot of your car and
recycle where possible near or far.
Save the sea turtles, the sharks, fish and coral,
don't copy other people and remember your morals.
So next time you visit the sea
follow these rules and help me
PLEASE.
This is her entry for the Blue Peter Green badge about the environment. We do hope she is lucky enough to be granted one as this poem does make you think.
.
Nordic Walking
As the restrictions are lifting Gillian is now able to offer 1-2-1 Nordic Walks as well as smaller walks. We are resuming our fortnightly walks but these are restricted to 6 (including Gillian) As you know we are passionate about Nordic Walking at Axminster and Lyme Cancer Support as so many have seen the benefit of this exercise. If you would like to try Nordic Walking for the first time or would like to resume waking with her as an experienced Nordic Walker now is an excellent time to start! Just contact us and we will forward confirmation. We are able to fund up to 6  1-2-1 walks. Open to anyone affected by any cancer.
It has been wonderful to get back out with friends and my poles!
RECIPE BOOK!
We would like you to send us your favourite recipe with a photo and story as to why it is your favourite. It may be a recipe from childhood, a firm family 'go to' or something that has a lovely story behind it. We will print these up and aim for them to be available to buy in the autumn. We can do all this remotely so I do hope you can send in contributions!
Please send to admin@axminsterandlymecancersupport.co.uk  DEADLINE IS 31ST JULY 2020
Axminster & Lyme Cancer Support –
Client Questionnaire.
At Axminster & Lyme Cancer Support we would love your feedback to help us continue to help with everyone's needs and requirements as much as possible.
If you could click the link or scan the QR code below and answer a few questions. This is open to everyone who follows and supports the charity. We will also have hard copies at drop-in each week for the next couple of months.
Your opinion matters to us and it also helps us with grants to know what people think about the services we provide.
Thank you in advance
ALCS
https://www.surveymonkey.co.uk/r/ALCSDrop-in
Easyfundraising
Please help support us by shopping online.  Use easyfundraising to shop with over 3.600 retailers including Argos, John Lewis, ASOS, booking.com, eBay, Boden and M&S.
Every time you shop, you'll raise a free donation for Axminster and Lyme Cancer Support – its that easy!
Start Easyfundraising today!.
Co-op Local Community Fund
Axminster and Lyme Cancer Support has been chosen to benefit from the next round of the Co-op Local Community Fund.
The funding has started so please do register your loyalty card so 1p of each £1 is given to ALCS.
Not a member?  Join here.  No matter which Co-op you use, the funds will come to the charity.
Recommended Reading
This month, an interesting read about some of the communities around the world that see many living well in their 90's and older. A research based book with some simple messages .
Would you like to volunteer with us?
If you would like to join us, or know anyone who could help us with administration, hosting our drop-in sessions, fundraising etc, please get in touch.
Dates for your diaryWeekly drop-in sessions
Our weekly drop-in sessions have currently halted but we have set up a virtual one on Mondays 2-3pm via Zoom. Please do message us for more information if you have not already joined in or information is posted via Facebook and the website.
We swap top tips, exchange some positive stories and support where we can. We also now have weekly slots for meet the therapist where they walk about the treatments they offer and how they offer it, so you have an insight and 'meet' the person before you sign up.
Zoom is free to join, just download the app on any device. As with all of these platforms it is recommended to check the privacy settings and unsubscribe to advertising. This should be an option when you sign up if not at the bottom of the confirmation email.
If you would like to talk to someone else…
Macmillan Telephone Buddies If you need to talk about your cancer, we're here to listen. With a weekly call from one of our Telephone Buddies, you don't have to face cancer alone.
How a Telephone Buddy helps Going through cancer can be an isolating experience at any time, and especially when social distancing. Our free Telephone Buddy service is here for you. We'll match you with someone who understands what you're going through, and they'll give you a weekly call. Your volunteer buddy will be a listening ear, ready to talk about how you're feeling and your support needs during this difficult time.
They can also let you know about our other services, and all the ways Macmillan can help, so you don't have to face cancer alone.
How it works
1.Sign up online or by phone to register your interest
2. We'll get in touch to find out what support you need
3. We'll find a Telephone Buddy who suits your needs
4.You'll get a weekly call from your Telephone Buddy
Typically your volunteer will offer up to 12 weeks of support, but this can be adjusted to suit your needs.
Find out more and sign up at macmillan.org.uk/telephonebuddies Or call our Support Line on 0808 808 00 00 (7 days a week, 8am-8pm)
Wishing you all a very happy July, and hoping the impact of Covid-19 is as minimal as possible. Thank-you !
If you know anyone who would like to receive this newsletter, please ask them to sign up via here or email admin@axminsterandlymecancersupport.co.uk and we will add them to our mailing list. We are happy to send newsletters by post, if needed.  Past editions can be found on our website