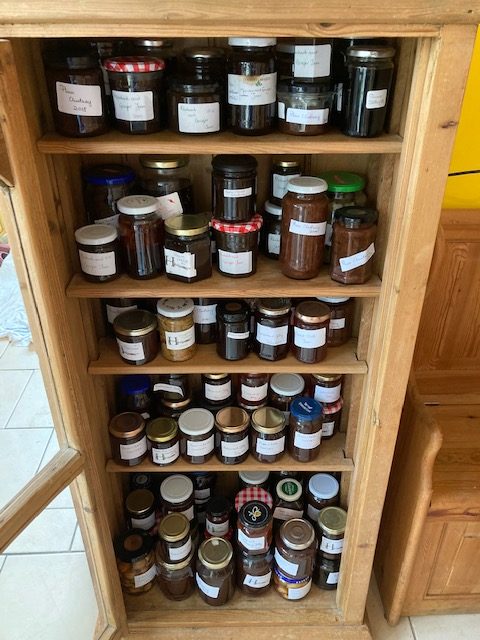 Newsletter No.24 – August 2020
What a month! I am writing this sitting at my kitchen table listening to torrential rain, thunder and lightning, I can hardly see the garden for the rain! I hope the local holiday makers who are in tents didn't have their break ruined by the weather.

We are enjoying our zoom meetings each Monday and share stories, swap ideas and always look forward to our resident Horticulturists weekly advice. Thank-you to Nigel for keeping us up to date with jobs in the garden. One of my favourite things to do is preserving our garden produce and my cupboard is well stocked for the coming winter months.
Duke is turning into a wonderful dog and mostly is well behaved! His latest trick is to take plums, apples, blueberries and raspberries directly off the tree/bush! I guess it isn't stunting his growth…here he is looking very relaxed.
Beach Hut Update
Some won
derful feedback from those of you who have enjoyed some time at the beach hut. Sadly the weather has prevented some visits, hopefully the autumn months will allow some quiet dry visits.  We are now taking bookings via the website until 31 January 2021.
If you would like to book the beach hut – please follow the link below
https://axminsterandlymecancersupport.co.uk/beach-hut/
Please note the Beach Hut is cleaned regularly from our small team of volunteers who may turn up when you have your spot to do a quick tidy up.
Nigel's Beach Hut Poem
Firs
t day at the beach hut excited to say
Two chairs to sit on nothing else in the way
Relax and listen of people going by
Wondering about cancer and oh why
It's great we can have a place to sit
A place of our own away from toil this is it
The beach so talking and screams of delight
Boys and girls, barbecues and drinking into the night.
Why am I here ask myself speak
You have earned this day tongue and cheek
Money given from Mary Anning film funds
The bid went in and we won.
People stopping to ask what the hut is about
Swimmer's swimming and seagulls do shout
This tiny hut will reach out to many
For cancer patients,families and any
The perfume of evening walkers does drift
The sea sparkles and rift
Enjoy the beach hut and spend your time
Waiting and thinking of special Lyme.
Online Shop – Cards, Key-rings and CDs Don't forget our online shop for all your blank card needs, we will soon be adding postcards to the collection as well.
Then later in the year our very own recipe book which we are currently testing out recipes and taking photos of them.
We have special offers available like buy 10 get one free for cards and an offer of free deliver if you spend over £20. We can also arrange local collection or delivery as a free option instead of postage so do take advantage of this offer. New Cards have also been added.
Please click the link to browse our items.
Our New Oxygen Therapy on our referral scheme
Wh
at, exactly, is oxygen therapy?
Oxygen therapy refers to breathing 100% oxygen for an hour under pressure, which raises the level of oxygen in the tissues and cells of the body, and consequently improves healing and well-being.
To obtain increased pressure, individuals sit in a pressure chamber, known as a barochamber, similar to those used in diving. We have two steel chambers, one seating up to three people and the other seats up to seven in comfortable arm chairs.
Barochambers can be pressurised up to twice normal atmospheric pressure (2 ata, equivalent to 10 metres). An 'ata' is short for 'atmospheres absolute'. Treatment plans normally start at 1.5 ata (5 metres), moving through 1.75 ata (7.5 metres) to 2 ata (10 metres), depending on the individual.
The pressure inside is increased by using compressed air, and oxygen is provided by a built-in breathing system, normally administered through a well-fitted mask. This is similar technology used in pressurised passenger aircraft.
Oxygen therapy is administered by trained operators. Oxygen treatment sessions are simple, non-invasive and painless, and once they have become accustomed to the procedure most users find the sessions pleasurable and relaxing.
What is it used for?
At the South West MS Centre, we provide oxygen therapy for a wide range of conditions
at a relatively low cost (capacity allowing) such as cancer, diabetic ulcers, non-healing wounds, stroke, fibromyalgia, Lyme's Disease, Chronic Fatigue Syndrome, migraines, head injuries, Functional Neurological Disorder (FND), Parkinson's Disease, sports injuries and other neurological symptoms.
What is an oxygen therapy session like?
Each session lasts approximately 1 hour and 20 minutes and consists of three phases:
Start: Pressurisation (10-15 minutes)
Individuals are settled into their seats and checks are made that the masks fit and are operating correctly. The door to the chamber is closed and the pressure is built up gradually by our trained operators over the course of 10-15 minutes. There will be a whooshing sound in the chamber increasing the pressure.
Middle: Treatment (1 hour)
When the pressure reaches the prescribed levels, our operators will speak through the intercom to advise that the pressure has been reached. Individuals can rest, read or listen to music for the hour. During this time the operator can be contacted via the intercom.
End: De-pressurisation (10-15 minutes)
The operator advises users when the session is complete and reduces the pressure gradually, until it is the same as the normal air. At this point, the barochamber door will be opened and the session ends.
What if I'm Claustrophobic?
We also run regular oxygen sessions at zero pressure, which simply means we leave the chamber door open and do not introduce pressure at all during the hour session. You will still wear an oxygen mask to receive the oxygen, but it is less claustrophobic for many people.
The chambers have porthole windows in them so that you can view outside, and there is a two-way intercom with the operators if you have any concerns.
Are there any side effects?
Some people may experience ear discomfort, however we will teach you some easy ways to rectify this.
What can I take into the chamber?
Only a few items are permitted to be taken into the chamber, and we ask that any bags are see-through. People take in books, magazines, crosswords and mobile electronic devices, however, all mobile devices must be on airplane mode so that the signals do not interfere with the equipment.
For more information on oxygen therapy and how it helps you can go onto our website; www.southwestmscentre.co.uk send an email oxygen@southwestmscentre.co.uk phone 01392 447411 or visit The South West MS Centre, Clyst Heath, Exeter, Devon, EX2 7EY
An Alternative to NHS Prosthetic's 
http://wewearboost.com/
Boost creates innovative products that boost mood and confidence. We design with and for our community of users to ensure their needs and desires are met.
Our first product is a breast form that is both breathable and beautiful. We are challenging the assumption that a breast form needs to imitate skin tone. We've been working with breast form wearers to develop a product that suits their needs and pocket. We think it's time that more choice was available to breast form wearers.
Our values
Choice
Self-Expression and Style
Breaking Taboos and Raising Awareness
Joy
What makes Boost different?
We founded Boost because we believe that breast forms don't have to be beige.
Boost embraces the healing, celebratory and expressive qualities of colour.
We involve people who wear our products in our design process.
We are working towards creating a fully customisable product that puts wearers in control of the look and feel of their breast form.
Lucy Wyndham-Read – search Lucy Squad on YouTube.
Lucy's name came up during one of our Zoom drop-in sessions. Ideal exercise when you cannot get up and outside or self isolating. She has a real range of fitness videos from walking, to seated exercise, 7-20 min work outs and more high intensity. Menopause workouts, diet and nutrition information also available.
Lifestyle and Fitness Influencer, TV Fitness  Presenter & YouTube Expert.
Lucy has been involved in the Health & Fitness industry for over 25 years, and now in her late-forties, she has a wealth of experience in what works and how to get results. She has helped many women reduce me. She has a YouTube Channel with over  1.34 Million Subscribers and 174 Million views, as well as appearing frequently on TV channels such as Sky News, BBC1,  Channel 4 and Channel 5.
https://www.youtube.com/channel/UCag7XoiJLutjBTsM0tAzUzg
Aqua Therapy
Zoe King's new Aqua Therapy class starts on Thursday's in September at 9.30am. Here is a picture of the Pool at Peacehaven in Seaton. If you are interested in trying out this please do let us know so we can book you a 1-1 session before undertaking the class.
For anyone needing any swim wear advise do check out the below for affordable and comfortable swimming clothing
Yoga with Angela
Zoom yoga
 session are Tuesdays 11am until 12.15pm
£5 a class if anyone is interested you can e-mail Angela below and she will send you the zoom invite and other relevant details.
Thanks to Magic Little Grants funding some Nordic Walking sessions.
As the restrictions are lifting Gillian is now able to offer 1-2-1 Nordic Walks and as you know we are passionate about Nordic Walking at Axminster' and Lyme Cancer Support as so many have seen the benefit of the exercise. If you would like to try Nordic Walking for the first time or would like to resume waking with her as an experienced Nordic Walker now is an excellent time to start! Just contact us and we will forward confirmation. We are able to fund up to 6  1-2-1 walks. Open to anyone affected by any cancer.
Axminster & Lyme Cancer Support –
Client Questionnaire.
Thank you to these who completed the questionnaire. We are now in the process of collating the information and we will update your shortly.
We plan on having a questionnaire every year open for 4 months to gain feedback and an insight to peoples needs and thoughts on the Charity. This also helps with our grant applications.
Easyfundraising
Please help support us by shopping online.  Use easyfundraising to shop with over 3.600 retailers including Argos, John Lewis, ASOS, booking.com, eBay, Boden and M&S.
Every time you shop, you'll raise a free donation for Axminster and Lyme Cancer Support – its that easy!
Start Easyfundraising today!.
Co-op Local Community Fund
Axminster and Lyme Cancer Support has been chosen to benefit from the next round of the Co-op Local Community Fund.
The funding has started so please do register your loyalty card so 1p of each £1 is given to ALCS.
Not a member?  Join here.  No matter which Co-op you use, the funds will come to the charity.
Recommended Reading – This months recommended book is a book about death. For some this may seem a bit morbid, however it is a topic many find difficult to talk about especially with their loved ones and having a conversation about your wishes and wants may  make a huge difference.

For some just having the book may help to talk to loved ones.

This book is available in our library for those who may like to borrow it.

We also have available therapists who can offer bereavement counselling and support, please do get in touch if this is something you would like to access.

People may also wish to gain information and support from https://www.facebook.com/LymeRegisDeathCafe
Would you like to volunteer with us?
If you would like to join us, or know anyone who could help us with administration, hosting our drop-in sessions, fundraising etc, please get in touch.
Date
s for your diary –
Weekly drop-in sessions – Mondays 2-3pm
Our weekly drop-in sessions have currently halted but we have set up a virtual one on Mondays 2-3pm via Zoom. Please do message us for more information if you have not already joined in or information is posted via Facebook and the website.
We swap top tips, exchange some positive stories and support where we can. We also now have weekly slots for meet the therapist where they walk about the treatments they offer and how they offer it, so you have an insight and 'meet' the person before you sign up.
Zoom is free to join, just download the app on any device. As with all of these platforms it is recommended to check the privacy settings and unsubscribe to advertising. This should be an option when you sign up if not at the bottom of the confirmation email.
Guided Meditation via Zoom after drop-ins on Mondays at 3pm on 7th and 28th September with Jane.
Unfortunately we have had to postpone the Fermented Food workshop but we will be holding a Q&A during drop in on 7th September instead.
Cr
eative Writing Course – 1 Place left to BOOK!
The last course was so successful we are delighted that Joanna Wilds is doing another one starting on September 3rd 11am for 80 mins. Running for 6 weeks, this is an opportunity to explore your creative skills, guided by the experience of Joanna. More information about Joanna can be found on her website from  https://blackdogwritinggroup.weebly.com/
This is limited to a small group so if you would like to take part please contact admin@axminsterandlymecancersupport.co.uk. It is free to anyone affected by any cancer. The course will be run using zoom, if possible a face to face meet up will be arranged.
If you know anyone who would like to receive this newsletter, please ask them to sign up via here or email admin@axminsterandlymecancersupport.co.uk and we will add them to our mailing list. We are happy to send newsletters by post, if needed.  Past editions can be found on our website